Rickey (Johnston) Wallace provided the latest Page One Pix from Memory Lane. Call the paper! Introvert Joan finally emerges from her shell, while Gray models the latest in the hip new fad, "two-piece" swimwear, channeling Cher before there was a Cher! Shocking!
L to R; Carol Bertram, Gray Ringo, Jane Ross, Betsy Currier, Linda Kobylarski, Jo Martin, Rickey Johnston, Beth Butler, Sue Storm, and Joan Realino on the ground — and, of course, Topsy the Wonder Dog, taken in Rickey's front yard. Rickey thinks it must have been 1964, our junior year. Thanks for the great shots!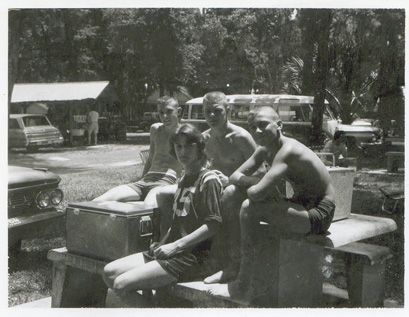 Back row: Bobby Husby, unknown (but will research and update if successful: ed.), John Siebenthaler (hairline's familiar, profile's not), front row, Sally Chamberlain (if I remember correctly). Editor: Anyone recall if this was a road trip to Sanlando Springs? Notice the latest in cooler technology - genuine, insulating, metal.
update: consensus seems to be the location is Rock Springs. More detail when if it's received.
1/25/05 web update: although he's the last person anyone would have picked for archivist, Rick Shotwell id'd the mystery scowler as Perry Garst, sporting the latest in high-tech flatop hair cuttery. Thanks Rick.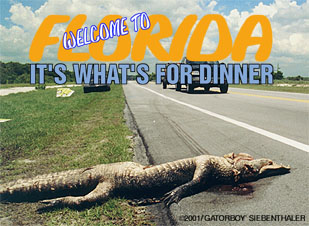 Normally I can cruise right by the hapless opossum, the luckless armadillo, the too brazen raccoon, but it's pretty darn hard to miss a "What's This? An Eight Foot Gator!" laying half out in the highway.
August, 2004: Here's the latest news from the Reunion Committee's plans for the 40th celebration, set for June, 2005! We're less than a year away, so if you've got an opinion here's where you can be heard.
I dunno', I guess I'm just a sucker for tube-topped, dancehall elephant freaks. Like peanut butter snack bars? You can play, and replay, Skippy's homage to computer generated elephants here. (It's a six-meg download, so if you're using a dial-up connection, it could take 30 minutes or more to retrieve.)