December 23, 2004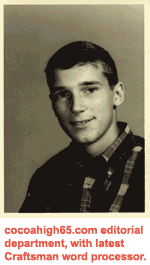 This is your online community. E-mail us at cocoahigh65.com and we'll get it into print.
John Siebenthaler, '65
©MMIV/cocoahigh65.com

Linda (Joiner) Kolumbus, left, and Marilyn (Hemenway) Todd got together at Marilyn's Alabama home for a bear-y Christmas reunion of their own, along with a Happy Holiday shout out.
Marilyn's husband Dave is a hunter, which explains the Kris Kringle hat stand holding up Linda and Marilyn. Hey, nice tie, bear!
Linda says they run into each other once in awhile, that Marilyn lives about 30 minutes away, works in Huntsville, and her daughter and grandson live in Linda's town of Madison.
Further connections include the fact that Dave works at Boeing, as does Linda's daughter Kelly. Both of Santa's helpers are into the serious discussion stage when it comes to attending next summer's reunion.
Thanks to Linda and Marilyn for this holiday update, and a Merry Christmas, Happy New Year, and best wishes to all from CocoaHigh65.com for whatever seasonal observance floats your boat!
Here's What's Cookin' In This Issue…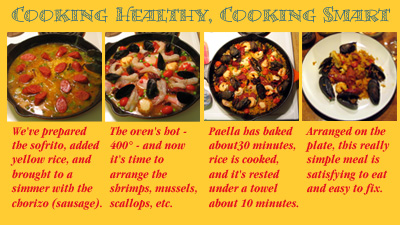 (clik on images for larger view) One of the great things about Florida's west coast is the Spanish influence on cuisine, although that, like many other regional differences, is slowly drifting away. Paella is basically oven baked rice, cooked in a skillet (cast iron preferably), a one dish meal that can be as simple or elaborate as you like.
Standard ingredients include chorizo — not the Mexican style, which isn't smoked, but the Spanish version — and saffron rice, although I've always used Vigo brand, which is cheap and easy.
You can use chicken, sausage, seafood, or various combinations. In this example, I took advantage of a terriffic local vendor, The Reef in Madeira Beach, for fresh Gulf shrimp, mussels, and sea scallops.
I browned the scallops first, as you would chicken if you were using poultry, or pork cuts, in extra virgin olive oil. They're set aside until needed, which is when they're laid on top of the rice mixture just before placing on the bottom shelf in a 400-degree oven.
To make the sofrito, simply saute bell peppers, any color, garlic, and onion. You can also include diced tomato, or a touch of tomato paste.
Chorizo's very salty, so it's a good idea to blanch and drain before slicing and adding to the rice — because of the intense flavor, it doesn't take much. Simple, inexpensive garnishes make a big difference in appearance and flavor: pimento, some peas scattered around, cherry or the Santa Sweets grape variety tomatoes.
Paella is a great change from predictable fare. If you've never made it, you might be surprised.
cocoahigh65.com literature is a new addition to the site, made possible by Bobby Fuhrel's generous sharing of his first-person narrative, Just One Slice of Life. I'm looking forward to more of Bobby's work in the months ahead; as they say in the Times book review, give it a read. And if you think you've got talent, please send it in for us to read.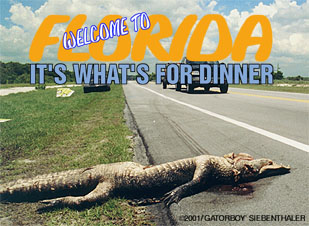 Normally I can cruise right by the hapless opossum, the luckless armadillo, the too brazen raccoon, but it's pretty darn hard to miss a "What's This? An Eight Foot Gator!" laying half out in the highway.