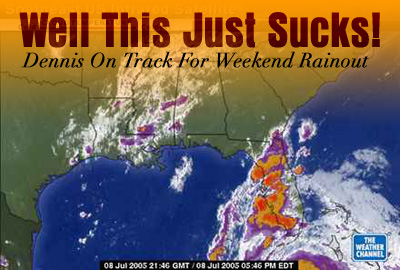 Annnnnnnnndddddddd We're Off
And a lot quicker than most expected. It's Friday evening, the rain's slacked off for the time being, and it looks like Florida's West Coast might escape serious storm damage.
We're optimistic the power'll stay on, the tree limbs will stay attached, and the roof tiles will respect the greater force of gravity as this slobbery mess slides up the coast. Silver lining? Maybe the Red Tide that's dogged the beaches for the past month will finally subside.
Storm Shenanigans
Last weekend tropical storm Cindy cruised by, this weekend Dennis (or Denis, depending on your preferences) will monopolize the local news, hogging the airwaves as local "forecasters" battle it out with computer models sporting brand names usually associated with college football teams and behemoth SUVs — we're flogged endlessly with STORM TRACKER VIPIR and ACCU-WEATHER TITAN projections, with the latest updates on the nines. Oooh, massive stuff. But then again, it takes a hurricane threat for weather mascots everywhere to get an audience's attention.
I should point out, last fall it was the VIPIR model that first forecast Charley's right turn into Punta Gorda, so it's not like all modern technology is nothing more than a pain in the Barcolounger.
Happy Birthday Shoutout
It's just shy of a year since we set up shop (July 19, 2004) and we're still rowing in circles half the time. For now, we're taking more interest in some of the challenges facing the baby boomers, as well as the social side.
Reunion Topics
We didn't make it to the reunion, but Bob Mayo 's website (at left, at the top of the column) has dozens of shots posted that'll give you an idea of what went on. If you didn't get an offer in the mail, Raines Video Productions shot hours of event video that's now on DVD/VHS (your choice) for the low, low price of only $32.95, including shipping and handling.
The two-hour production includes graphics and music overdubs for added atmosphere. For more info, call Richard Raines at (800) 654-8277. (Richard called me before the reunion for contact info, and he's offering a quality product for a reasonable price, so get your copy before they're gone.)
Legally Speaking, We Don't
I'm well aware that the subject of Living Wills, how to get them, how to use them, is on deck and past due. It's in the works as we speak, so look for an update to this issue in the next week or so. After we received ours, I can say with assurance this is a very well constructed document, much more to the point at hand than most template based lawyer's efforts.
Get Fit — Just What The Doctor Ordered


The same excuse goes for the planned exercise expose. Right now, Monica, our yoga instructor, is in upstate New York, teaching a course at the Rhinebeck campus of eOmega, a progressive holistic retreat that will present a weekend yoga workshop in Bal Harbor the first weekend of November. We'll wait until she gets back with a fresh perspective and can take a few minutes to run down the positive benefits of staying active. Meanwhile, Tina (above) shows off how Pilates keeps her back, and everything else, in shape.
More Tales of Interstate 10
Meanwhile, back to the topic of storms. We're heading out to Louisiana two days after Dennis/Denis is predicted to clear the coastline on it's way inland to Birmingham. Right now projections have it on a track that favors Mobile, but that can change in a New York minute.
If Pensacola gets whacked head-on, which seems very likely, we're really concerned about the status of the Escambia Bay I-10 bridge, knocked out just last fall and none to sturdy after temporary repairs in the months following Ivan. We had to detour around the Bay just two weeks after Ivan dumped huge chunks of the eastbound southern span into the water, and have appreciated the temporary repairs during several trips since.
The sad truth is, Pensacola took another drubbing from last week's windy downpour, and it looks like regardless of where Dennis hits, it won't be comfortable for western Florida, which has born so much of the brunt of Nature's fury.
Of course, it's not the absentee owner/tenant high-rise McCondoMcMansions that come out on the short end. No. Those hideous monoliths that rise up out of the dunes like so many cookie-cutter tombstones easily survive the winds and waves, which as they level the more picturesque and humane dwellings, create even more opportunity for the disfiguring transformation of Florida's fragile beachfront.
Keep track of this season's weather hijinks by using the links over in the Hurricane section of the archives.