2005 Folk Fair Showcases Bygone Era
January 29, 2005: A visit to Pinellas County's Annual Folk Fair, preserving a living heritage
text and photos ©MMV John Siebenthaler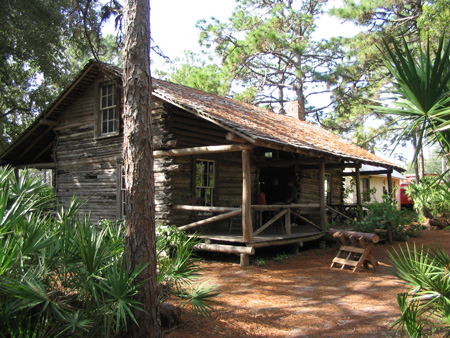 Historic McMullen homestead, above, constructed of heart pine and cedar, is just one of the landmark structures in Pinellas County's Heritage Village.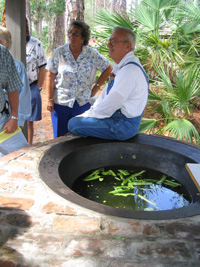 (Largo, FL) Pinellas County's park system is a major accomplishment, and within that system lies Heritage Village, a 10-acre piney woods and palmetto strewn enclave whose mission is to preserve links to our pioneer past.
Throughout the year, events are held that offer visitors a chance to discover or relive a way of life that's nearly vanished, including primers on such mundane items as the history and significance of the Southern legacy of cast iron implements like the 50-gallon kettle, right, used in the fall to cook down the pressed juice from sugar cane into syrup and molasses.
Despite popular conceptions, Florida did not spring forth as a land of condo conversions, big-box retailers, endless miles of traffic gridlock, and a skyline of builder's grandiose developments that now form a solid concrete barrier between the land and the shore.
For a day, visitors – admission's free – can experience vicariously a little of the flavor of a pioneer settlement. It's the ring of the blacksmith's hammer as he pounds out everything from nails to hinges to candleholders. It's the sound of musical trios providing popular entertainment in a natural environment. It's the gentle drone of a spinning wheel, a marvelous invention that greatly increased an individual's ability to spin yarn from fiber.
By current standards, a pioneer existence must have been intolerably difficult, but with the exception of long sleeved clothing throughout the year – worn probably as much for protection from the elements and the insects as for cultural reasons – life in general would have been pleasant.
Bearing in mind the fact Florida has always been a destination for anyone tired of snow and ice, if that meant putting up with summer heat and year round insects then it also meant a much longer growing season and a more bountiful environment of fruit, vegetables, seafood, and meat.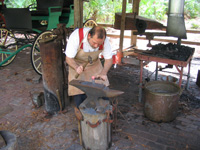 The success of the fair, and the other historic and cultural events held on a regular basis, depends entirely on the many willing volunteers whose experiences, direct or otherwise, are a key component of the authentic presentation of bygone craft and culture.
And though most of the exhibits tend to focus on the everyday necessities of life, the need for entertainment on the frontier isn't neglected. A wide range of musical styles was well represented by a large number of musicians anxious to showcase their talents and the heritage of our ancestors. Folk singers and blue grass vied for audiences at venues throughout the park, pickin' and singing under the pines to appreciative listeners.
The Pinellas County Folk Fair is just one of hundreds of cultural events held throughout the year and throughout the state, offering a welcome respite from the overcommercialized stadium fare. And if you're planning a trip home, check the various web sites for news of an event that might coincide.