---
The beach itself was all but deserted by 10 a.m., with no hint of the surf that will begin churning up as the storm moves north and east.
A big difference between Charley and the last named storm to affect the area, Hurricane Elana in 1985, has been the addition of a concrete seawall that runs the length of Indian Rocks and Indian Shores, and the planting of erosion resistant foliage like sea oats, sea grape, sandspur and railroad vine.
Replenishment has allowed a wide stretch of beach to be reclaimed and preserved against hurricanes, storms and wave action, although it's a far cry from the productive, protective, and fascinating sea nursery of earlier times.

The Tacky Turtle is one of the more colorful additions to Gulf Boulevard in Indian Rocks Beach. Cuban sandwiches and cold beer are staples - note the optimistic sandbags in front of the door. A Force 4 storm surge would easily wash over the building.
The problems of coastal Florida are made a lot worse by the sheer density of the population. Pinellas County is the smallest in the state, but with the highest density per square mile. It's like living in an anthill, which logistically just makes any recovery that much more difficult.

(noon)
The bridges to the island are closed and power's scheduled to be cut off, as is the case throughout the region. The cities south of us, from Sarasota to Ft. Myers, are in very serious danger.
Our friends in Punta Gorda have been caught in the midst of a necessary roof repair at the worst possible time. Although it's dried in (felt paper down) the new tiles are sitting in the lot next door. With predicted 145 mph winds on the way, this can't be comfortable.
(5:30 p.m.)
Charley's moved inland now, and first reports are just beginning to trickle in. We note that CNN used a mish-mash of archival footage, random clips, and what resembled Wolf Blitzer's lawn sprinkler to cobble up what they were selling as dramatic coverage. It wasn't convincing.
The storm officially went ashore at Captiva, an island just outside of Charlotte Harbor and part of a chain of barrier islands and keys that dot the southwest Florida coastline. The hurricane tracked right up the harbor, piling water into the canals and bayous, before moving northeast through the central part of the state towards Orlando.
Between the coast and inland lie thousands of acres of groves, and mostly smaller towns like Arcadia, Zolfo Springs, and Lake Wales, along with larger communities like Lakeland.
(10:30 p.m.)
Predictably, the County Commission's rush to curfew failed to survive more than a few hours. So far, the news from Ground Zero, Punta Gorda in Charlotte Harbor has been sparse. Daylight should reveal the extent of the damage; having followed the eye ashore watching local radar weather reports, it doesn't look good.
We survived with barely any rain, and virtually no wind. Just a few miles east and south, many of our neighbors will begin rebuilding their lives tomorrow.
(Sunday, August 15)
Relief efforts are well underway, but it's incomprehensible that the state and/or feds didn't set up a priority victims database registry and put it on the web. With no phone service out or in, families and friends are clueless about what's happening on the ground; news organizations are focused on setup shots of mobile home destruction.
Cell towers are up, but the batteries aren't charged and there's no way to recharge them until power's restored, which could take weeks in some instances.
We're extremely lucky this storm didn't strike Tampa Bay as originally forecast. The results would have been identical, only on a much larger scale, considering that Punta Gorda's population is something like 15,000, and Pinellas County alone ordered over 380,000 evacuations from low-lying areas.
Predictions are that had a storm like Charley hit Tampa at peak tides, the city would have been underwater. Not just flooded, but underwater.
all ©MMIV john siebenthaler

(SEMINOLE, FLORIDA)
All photos August 13, 2004, 9:30-10:30 a.m.
by John Siebenthaler
The thing about hurricanes is that you know they're coming, you know the approximate time of arrival, but you don't know the destination until they're on top of you. That's the case for the Tampa Bay region, as Hurricane Charley's course, running less than 24 hours behind Hurricane Bonnie, tracked up Florida's west coast with an originally predicted landfall right into Tampa Bay but with a last minute turn eastward that took it into the Ft. Myer's/Port Charlotte area, and with a late muscling up that transformed it from a manageable Category 2 to a ferocious Category 4, both changes occuring within a few hours before landfall.
Thursday's announcement of a mandatory evacuation for the low lying areas of Pinellas County, which fronts the Gulf Coast just west of Tampa's Hillsborough County, set off a Pick The Shelves Clean storm ritual at area grocery stores. That's when ordinary people lose all sense of perspective and in anticipation of a two-day weather event decide that 15 pounds of peanut butter and 20 loaves of bread are what's needed for survival.
Carts were stacked high with batteries, flashlights, and water. Car tops sagged under the weight of plywood sheets, usually held down by kite string and one hand from the driver's side and another from the passenger's window.
I'd made the last mail drop on Thursday, just before the post office boarded up and evacuated (left). By then, the traffic backup on the bridges over Tampa Bay meant a minimum 2-hours for the seven mile trip across the bay.
Gas pumps were running dry and bagged ice was gone by Thursday evening. At 6 p.m., what sounded like a wounded car alarm that desperately needed axing was actually the emergency evacuation siren, the first time I'd ever heard it used.
This went on for 15 minutes, a novelty repeated again on Friday morning.
We set to work with a stockpiled four-pack of StormTape, yellow plastic masking tape that's easily removed if pulled off within a week, along with a 3M window film removeable product, to tape and film our windows and doors. We'd done the plywood drill in the past, but figured taping was sufficient for the forecast of a Category 2 storm on a fast track up the west coast and across the state, even with a direct hit.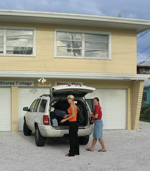 Thursday's night sky was clear, as the remnants of Hurricane Bonnie cleared out to the northeast, but Friday morning's dawn broke grey and cloudy, as Hurricane Charley cleared Cuba and churned north into the Gulf.
I drove out to the beach, curious to check conditions, and to photograph what might be my final view of the last of the small beach cottages that have so far resisted the condo revolution. The beach access at 1st Avenue was the spot for Gulf surfers (above) to hang out, at least until access to the beaches was cut off at 11 a.m. by deputies patrolling the towns and shooing stragglers who dragged their feet towards regional shelters.
By Friday noon, we still had patches of sunshine breaking through when the Weather Channel announced a possible early turn to the east, below Tampa Bay. This potentially means far less damage than if the storm were to continue straight up into the mouth of the bay, and the difference between survival and destruction for the older structures that still dot the beaches.
By noon, there were very few residents and no tourists left on the beaches. The fate of the older structures, like the Blue Heron cottages (below right), depends largely on where Charley comes ashore and how long the storm lingers. All the motels were ordered evacuated on Thursday; should the predicted storm surge hit, at a bare minimum the first floors would be destroyed.
Pinellas County Curfew Announced


(1:30 p.m.) We've just heard we're under a dawn to dusk curfew for the next five days!, despite the now nearly certain path of the storm into Port Charlotte. Right off the bat, this seems a bit severe, but that's the Nanny State for you.
These kind of arbitrary pronouncements are almost always explained as being for"...our own good." Right. Like the parent delivering a spanking, this is hurting me more than it is you. Oh, ouch.
Here's a good link for seeing current weather updates. Other local servers, i.e. St. Pete Times, have had trouble streaming due to demand.
Despite early scepticism, the evacuation went off much smoother than I, and a lot of others, predicted. That so many could move so efficiently on such short notice is a good sign for future emergencies.
The same couldn't be said for communities further south, where evacuations weren't as widespread or as thorough. There are sure to be many questions asked. Answers may come harder.
Click here for hurricane links from site map page.