September 15, 2004: All eyes are on Mobile, as Ivan sits just offshore one of my favorite cities. From Wentzell's Oyster Bar and the long gone John Ward's Steak House on Dauphin Street, Tommy's Cafe along the docks and The Pillars on Government (both also history), I've had a lot of good times and great meals in this smaller version of New Orleans.
The four-poster beds at The Malaga, named for Mobile's sister city in Spain and just behind the Civic Center, are the highest, softest, and most comfortable you can imagine, with gentle street views over the wrought iron balconies.
Government Street (US 98) through the heart of the city is perhaps the most beautiful collection of antebellum architecture I've seen, overhung with century old live oak and dappled in soft greens and gentle shadows. The entrance from the east, coming up out of the Bankhead Tunnel which runs underneath the bay, is one of the more dramatic drives you'll encounter. Mobile's a city of old brick, antiques, and a deep sense of community. We can only hope for the best, and send out positive energy to all in Ivan's path.
September 14, 2004: Last week we'd just started thinking about cleanup from Frances when Ivan became a real threat, and turns out a lot of folks who might've thought they were prepared before Charley and Frances had to recalibrate.
It's interesting how like the simplest school of fish or insect colony or animal herd we can become when the familiar is altered just a fraction. A gas station with cars at the pump is immediately swarmed. A Lowe's with plywood requires police presence. Business women in suits and high heels frown over boxes of TapCons and compare the heft of the box to that poly-pack of PlyLox. Hmmm. One comes with a drill bit, it must be better.
The checkout line at Home Depot is three hours deep. Compact cars are permanently deformed under the weight of multiple sheets of oriented strand board stacked on the roof, which will disintegrate the minute rain soaks into the interior-only rated building product.
Yet one more time, a familiar face on The Weather Channel sternly warns that the time to prepare is NOW! Board up. Know where your shelter is. The storm surge will probably wash everyone away anyway.
And then there's the dillema of relating a tin-roofed island hut in the Caribbean to the weather durability of a relatively modern concrete block subdivision structure. The drama involves the former, the need the latter.
But then you're reminded that this really is just part of the natural ebb and flow of life, a natural cycle that is made much more difficult by our reliance on artifice and accumulation. Air conditioning. Antiques. Hot coffee. Hot water. Cable. Cable? Not to mention internet. Most of the effort is related to protecting the possessions.
The realization doesn't help much in the comfort sense, but it does aid in relieving the tension that comes from a month-long alarm gong banging on your brain that is well-intentioned but sooner or later disintegrates into a ratings generated protocol. Eventually we're all pseudo experts, willingly or not, able to discuss the relevance of an eyewall with the practiced offhandedness of a veteran. I'm tired of the weather, now.

Looks Like Another Weekend Just Shot To Hell…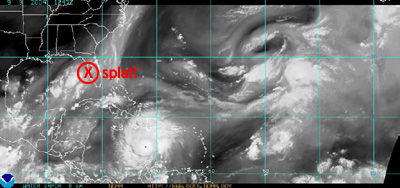 Thursday, September 9, 6:15 p.m. Those Weather Channel pranksters crack me up. Here's this afternoon's NOAA shot (I picked the water vapor over infra-red — think it's a bit more Zen) update of Ivan's position after grinding Grenada into mulch and threatening Jamaica with the same.
Too soon to tell what's going to happen, but as of now there are very few Florida zip codes that haven't been affected by Charley and Frances. Who does this? I mean, who does three hurricanes in four weeks? We're starting to feel like we're trapped in an endless loop of "Key Largo".
Just a thought — if I'd bought plywood futures three weeks ago, we'd be on sweet street today. Say, here's an idea. VelcroWood Storm Panels™. EZ on, EZ off. You read it here first.