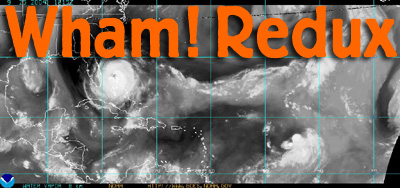 Look familiar? Saturday (9-25-2004) afternoon NOAA water vapor image of Jeanne just offshore doesn't leave much doubt as to what to expect over the next day or so. Over three million were ordered (again) to evacuate. I've gotta' say, it's eerie how these things keep wiping out the weekends.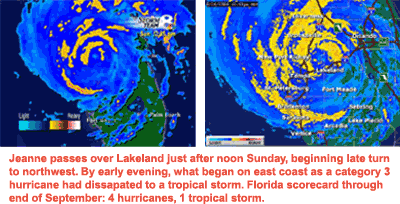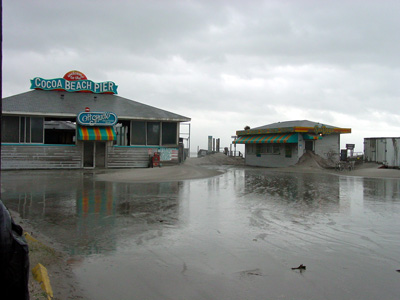 This just in (9/29), from Richard Barwell, of pier after Jeanne. He's working off his laptop and using a phone modem to get us these images. We'll have more photos up in about a week. Thanks Richard! (clik on image for larger view)
September 27, 2004: Back on line after a couple of days without power, but nothing compared to what the rest of the state is feeling. Talked with Susan Barwell Sunday afternoon, after the worst had passed for the east coast and Jeanne was plowing through the Lakeland region. She and Richard both ok, but others up and down the coast took, yet again, a beating.
Although able to log on using the hard phone line and the laptop, internet activities were kept to a minimum to conserve battery and frankly, it was hot, humid, and typing on a laptop keyboard by candlelight seems counterproductive.
For many on the east coast and in central Florida, the miseryjust keeps getting worse. Aid is bandaid variety in many instances, and the sheer scope of physical alteration to the environment is staggering. Many original victims of Charley are still living in a twilight zone of subsistence, while the Panhandle continues to dig out. Any good news? Fall's in the air, although when the temp still hits 90, that may be a relative season.
Here's a big thanks to the power company deal makers who sold out critical line maintenance to inflate profits, resulting in needless emergency work for harried crews and unnecessary outages for thousands who otherwise wouldn't have lost service, compounding the problems for legitimate storm damage.
Because of intentional cutbacks in tree trimming over the years, thousands of victims who remain in desperate need of lines and poles have to wait as crews rotate throughout the state; now, linemen from as far as California and Nevada are helping restore power throughout the state.
Oh, same thanks also to the patronizing politicians who swapped votes for campaign funds instead of looking out for their constituents, telling everyone that competition is good for all things Florida, especially when it's based on critical need infrastructure. (We have an issue pending for our phone service, thanks to a legislature who's motto is, "Top Bidder Takes The Session.")
Is anyone out there still seriously considering the complete privatization of utilities as a bonus for the citizens? Maybe they can get Ken Lay as the new state utilities regulator. After he's done with his community service, that is.
September 25, 2004: One week after Ivan took out the Panhandle, three weeks after Frances soaked the state, and just over a month since Charley destroyed Punta Gorda, now comes Jeanne storming back ashore like some weird zombie weather nightmare; The Day of the Living Hurricanes. Oooh, yuck!
Over three million have been ordered to evacuate — again, and major airports in Orlando and Tampa will also be shutting down — again.
You may remember a couple of weeks ago. Jeanne formed right after Ivan and proceeded to rain all over the Carib, then wandered up into the Atlantic. Since then it's reformed into a Cat 3 storm forecast to come ashore during the night and proceed up through central Florida throughout Sunday.
2:30 p.m. Just talked with Susan Barwell to get an update on the Brevard situation. Susan and Richard live on the top floor of their five-story Cocoa Beach condo, a block and a half from Ron Jon's on the Bannana River side, and Susan says the river's already getting whipped up in a heavy chop.
Though in a mandatory evac zone, they're staying, and were busy shutting down the condo elevators and otherwise preparing for the next 24-hours. We'll talk tomorrow for an update on the latest round in a season that's already affected nearly every facet of the state.
Here on the west coast, we're expecting high winds and heavy rain in the early morning hours and throughout the day on Sunday. Since the last couple of blows pretty much caught the power company unprepared in terms of tree trimming, the action's been heavy getting limbs and branches away from overhead lines, so perhaps we won't lose power this time.