We're collecting viewpoints and memories from CHS alums, so if you've got something to share that has a link to how it was in the Sixties, cocoahigh65.com would like to hear about it.
Like what? Well, for us, the rockets red glare and bombs bursting in air most likely meant another launch that went haywire, ending up with someone hitting the destruct button and another million bucks of rocket up in smoke. Our playgrounds were beaches, rivers, and orange groves. Going to the Big City meant a run over to Orlando's Steak 'n Shake or Ronnie's, on Colonial. And does anyone remember Florida before air conditioning.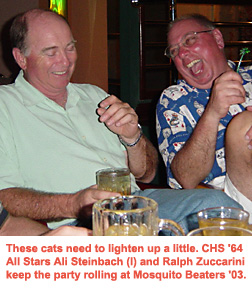 (thanks to Wendy (Wenner) Busk '64)
Cocoahigh65.com will add links and original content continuously, and there are a bunch of already up and running sites that feature a wealth of class, event, and generic info. Bob Mayo, for instance, devotes a lot of time and effort to his site, linking many of the other CHS related online locations. He's got a ton of stuff up now and has just added a chat room.
Stay tuned to cocoahigh65.com and stay in touch. There's more on the way!
Hurricane Charley: Ali Steinbach ('64) made it through relatively unscathed, and that's great news. Check the Hurricane Page for my August 13th, Friday morning impressions, photographed when Tampa was still expected to be the target and before Charley turned into Punta Gorda. We were very lucky to have escaped the destruction: Here's what Ali reported...
August 15, 2004: everyone is safe....hurricane blew through here at 9:00 pm friday night.....howling 90 to 100 mile per hour winds......at our house, two big trees were blown down....one away from the house, one hit the roof with a little damage.....electrical power was out for about 18 hours and telephone service was out about 36 hours....but we are back to normal although many people in the region will not get power back for 3 to 5 days.....we were lucky....thanks for thinking about us....best to everyone.....ali
Charlotte County's experience is a lesson we won't take lightly. We've got friends in Punta Gorda whose home is on one of the fingers that lay directly in the path of the storm. If anyone knows of classmates, family members, or friends who might benefit from a web posting, let me know and we'll see what we can do to help.
July, 2004: Here's the latest from the Reunion Committee, and it looks like planning's underway for a 40th celebration at the beach set for June, 2005! (more)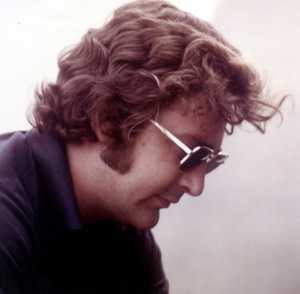 That Was Then...


Bobby Husby in 1972, I think from a photo by Sue (Duff) Husby. Caption reads, "changing tire." Could've been the end of the roll that needed changing, but a good shot that has survived a few decades.
Looking For A Lost Date...
Just in time for a July Blue Moon, Bob Mayo writes about his Full Moon Beach Experience.
"It was the summer night in 1964 and I am sitting on a blanket on Cocoa Beach with my date. All of a sudden a full moon started to rise above the horizon. We just sat there in awe for many moments. It was the first full moon that I had witnessed rising above the ocean and the most beautiful moon that I have ever seen. That image is still vividly fixed in my memory to this day. I just wish I could remember who my date was that night." (If any of your readers claim to have been my date that night would you please let me know.) cherokeebob@bellsouth.net
Interested in a first time impression of what a modern political campaign looks like when it rolls into town late at night? The same day John Kerry picked John Edwards as a running mate, the campaign finished the evening at the St. Petersburg Coliseum. Here's what I heard and saw.