September 14, 2004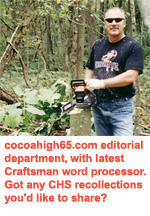 E-mail cocoahigh65.com and we'll get it into print. Pix are always welcome (please include captions if possible), along with news of upcoming events and links of interest.
©MMIV/cocoahigh65.com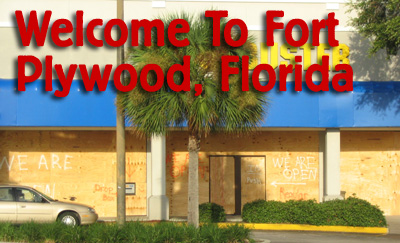 If It's Monday, It Must Be A New Hurricane…
The local video outlet remains shrouded in ply. Same for the post office over on the beach, only their's is government issue, 4x12, 3/4" variety; heavy as original sin and twice as difficult to get out from under.

September 13, 2004 I love the smell of fresh, hot plywood just off the press. Stacked to the rafters of the Big Box Warehouse stores, tied down with garden twine to the tops of sagging KIAs, plywood is now the official sub-currency of Florida, a fact the rest of the Gulf states will soon discover. That, along with "Generators Are Our Friends", "TapCons vs. PlyLox — You Decide!", and "Eye Wall, Schmy Wall — We're Moving To Idaho!"
And not just any plywood. No. The best entry under brands you can understand is Georgia Pacific's Plytanium®, our pulpwood byproduct protection of choice. Of course, plywood's not for everyone.
A neighbor invested (less than $1,000, more than a case of Corona) in a shiny new set of corrugated aluminum shutters — about five minutes before Ivan's left turn was announced and the block long plywood line disappeared. But that's for two entire windows, mind you, and pay no attention to the mounting holes on the side of his house that resemble a woodpecker's wandering on a bug-infested pine. Crazy stuff, this.
But frankly, we're ready to move on from the Weather Channel All Stars and phraseology like, "shelter in place" and "seek protection NOW!" In short, we have a life. We want it back, even if it means yet even more toenail fungus commercials.
At this point, here's the deal: we consider ourselves (in the Tampa Bay region) real damn lucky. Real. We dodged Charley's bullseye, got grazed a bit by Frances, and looks now like someone else will have to stand in for us with Ivan. But sooner or later…
Susan (Harward) Barwell shares her perspective on the Frances experience — thanks, Susan, for the effort in getting us news we can all relate to; we offer a well thought out Hurricane Tips and Tricks list (also courtesy of Susan); and Ivan gets an update over in the archives. Meanwhile, if anyone knows of classmates needing help or info, let us know if we can help in some way. There's a lot of people hurting out there.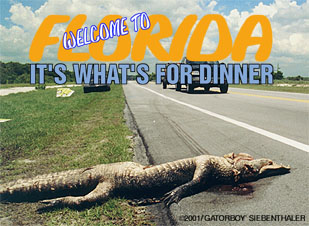 Normally I can cruise right by the hapless opossum, the luckless armadillo, the too brazen raccoon, but it's pretty darn hard to miss a "What's This? An Eight Foot Gator!" laying half out in the highway.
I dunno', I guess I'm just a sucker for tube-topped, dancehall elephant freaks. Like peanut butter snack bars? You can play, and replay, Skippy's homage to computer generated elephants here. (It's a six-meg download, so if you're using a dial-up connection, it could take 30 minutes or more to retrieve.)