September 23, 2004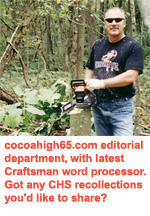 E-mail cocoahigh65.com and we'll get it into print. Pix are always welcome (please include captions if possible), along with news of upcoming events and links of interest.
©MMIV/cocoahigh65.com

Bob Busk Breaks Out The Enquirer Pix…
(l to r) This is the lineup, according to Bob; "Jenny Kovace, Zook, You (John Siebenthaler), Me, Larry Bush, Steve Greer, and in the back...Art Williams, who called everybody "Jocko". We were signing yearbooks, smokin' and jokin' and leaning on Wendy's Peugeot, one of the two traditionally UGLIEST cars ever. The other is the Citroen. And where were your shoes?"
Who could have guessed that a photograph so incriminating (excepting Jenny of course) would have survived nearly 40 years without being seized by the government, used as a blackmailed down payment on a Cabo casa, or held up in front of small children as The Poster for, "You see what'll happen to you if you don't quit feeding your little brother from the dog's dish!"
Apparently all style sense was jettisoned at the parking lot entrance, allowing a perfect storm of sartorial confusion to run rampant. What I think is, if this were in color at least one pair of pants would be dayglo lime green, and someone might well be wearing a pair of those flip-lock shoes that weren't loafers and weren't laceups.
Bob managed to do a right smart job of stitching this gem together from an 11x14 print, photographer unknown. Anybody out there know whose shot this is? (No, Time-Life's not calling, but we'd sure like to get reacquainted.) Big thanks to Bob for this once in a lifetime slice.
If you've got a special memory of hanging out in the parking lot, losing your shoes after a sock hop, or skipping school to head to Daytona and getting caught that you'd like to relive, drop us a line.
Hurricane Jeanne Poised To Strike; Weary State Responds
September 23, 2004 Another week, another storm on the horizon. Tropical Storm Ivan circled back over the state after it's disasterous run along the Alabama-Florida beaches, this time headed for the Texas-Louisiana border as a tropical storm. Enough already. And what was tropical storm Jeanne, after causing severe loss of life in Haiti, has strengthened into a full hurricane and threatens Florida's east coast over the weekend. We'll probably still have our plywood stacked by the back door after New Years.
Country Home Products specializes in farm and garden equipment. If you're having trouble finding powered tools to help you saw, chip, grind, split or haul storm debris, you might check their web site. They also carry generators.
cocoahigh65.com literature is a new addition to the site, made possible by Bobby Fuhrel's generous sharing of his first-person narrative, Just One Slice of Life. I'm looking forward to more of Bobby's work in the months ahead; as they say in the Times book review, give it a read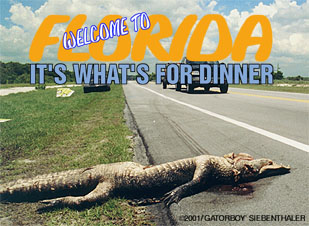 Normally I can cruise right by the hapless opossum, the luckless armadillo, the too brazen raccoon, but it's pretty darn hard to miss a "What's This? An Eight Foot Gator!" laying half out in the highway.