It's been a very busy September, yeah we all know why, August too, and the nonstop activity slopped on over into October and here it is, nearly time to stomp out that pesky Daylight Savings Time for another year as we begin to imagine how we'd really like to treat those nasty neighborhood hoodlums who throw on a dirty high school sweatshirt, a cheap Freddy Krueger mask from the Dollar Store, and then muscle the kindergarten tykes out of the way as they demand candy and cash in their last minute sorry ass pillow case sacks on Halloween.

Today, the t.v. crews are long gone. So too are the tiresome and might I say irritating weatherpeoplepersonalities who, after warning everyone how dangerous all this sturm und drag is to the average hurricane novice, proceeded to leap in and out of their respective hotel balconies while assorted fronds, vinyl siding, and the occasional storm shutter flew past like a wet set of Wizard of Oz monkeys out for a night on the town."Oooh, look! The rain is actually, and I'm not making this up, going past us sideways!"

Between storms we were visited by sons John and Chris, who came out from Austin to see their grandfather ride the medical equivalent of an E ticket as he underwent a double bypass. We ate a lot, drank a little, and had a blast hanging out. A trip down memory lane to the original Frenchy's in Clearwater Beach sorta' kinda' proved you can go home again, so to speak, as the world famous grouper burger that's been served there for several decades lived up to pleasant recollections of an impossible to find elsewhere slice of sandwich heaven.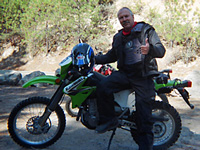 Then it was out to Louisiana, mid-state just a little north of Baton Rouge, for a week of more great food and pleasant times with friends, then back home, then my first Cycle World magazine Trek trail ride in the Sierra National Forest an hour northeast of Fresno on Yosemite's back door — nothing but fun, if you don't include waking up Sunday morning just before dawn to the stunning sight of 60 or 70 bikes covered in wet snow, as the gently falling sleet kind of hung on my cheek. (more pix) Tears followed close behind, as I quickly realized that the bikes had to be ridden back down to Oakhurst that day. Say what? I now know with searing clarity the difference between rain resistant and waterproof. It's not just a nuance.
The point to all of this is that content's a little short, and would be non-existent, were it not for Susan Barwell supplying the charming little ditty posted below.
So anyway, someone out there slid this onto the internet and we're happy to pass it along. For many, the memory is more vivid than for others. It was bad, but from the pure luck perspective of the Tampa side of the state, I can say we were damned lucky.
"Twas the night before Frances"
'Twas the night before Frances
When all through the state
Not a gas pump was pumping
Not a store open late

All the plywood was hung
On the windows with care
Knowing that a hurricane
Soon would be there

The children were ready
With flashlights in hand
While bands from the hurricane
Covered over the land

And mamma with her Mag-Lite
And I in my cap
Had just filled the bath tub
For flushing our crap

When out on the lawn
There arose such a clatter
I sprang from the closet
To see what was the matter

The trees on the fence
And the neighbor's roof torn
Gave the fear of us dying
In this terrible storm

With a little wind gust
So lively and quick
I remembered quite clearly
Our walls weren't brick

More rapid than eagles
Her courses they came
And she whistled, and wafted
And surged all the same
Off shingles! Off sidings!
Off rooftops! Off power!
Down trees! Down fences!
Down trailers! Down towers!

In the center of Florida
She continued to maul
Screaming Blow Away!
Blow Away! Blow Away All!

As wind ripped and tossed
The debris through the sky
I peeked out the shutters
At cars floating by

So go to the safe-room
My family did do
With a portable radio
And batteries too

And then, in a twinkling
I heard on the set
The end was not coming
For a few hours yet!

As I calmed down the kids
And was turning around
Through the window it came
With a huge crashing sound

A tree branch it was
All covered in soot
The wind blew it smack-dab
On top of my foot

A bundle of twigs
Now lay in a stack
And my living room looks
Like it was under attack

The wind - how it howled!
The storm - very scary!
Myself and the family
Were all too unwary
The dangers of hurricanes
Are serious, you know
They are taken for granted
As Frances did show

With the winds dying down
And the danger beneath
I noticed my tool shed
Was missing its sheath

So I grabbed my last tarp
And nailed it on down
Then I got in my car
And I headed to town

The traffic was awful
And stores had no ice
My five gallon cooler
Would have to suffice

Generators were scarce
Not one left in town
There were trees on the roads
And power lines down

FEMA was ready
With people to work
Electrical companies
Came in from New York

And in the midst of
This peculiar routine
Another storm emerged
Named Hurricane Jeanne

I sprang to the car
And gave my family a whistle
Then away we all went
Like a Tomahawk missile

You could hear us exclaim
As we drove out of sight
"The hell with this place,
Vermont seems just right!"

(author unknown)
And then there's this contribution...
Gov. Jeb Bush held a special news conference in Tallahassee today to inform the people of Florida of new state symbols The changes take effect immediately and must be implemented by all official agencies. The changes are as follows:
The Florida State Flag will now be a blue tarp…
The license plate symbol of two oranges will be replaced by a chain saw…
The new State song will be "Blowing in the Wind"…
The State motto will now be…"Oh No, Here comes another one"…
The new State beverage will be…anything you can get.
and finally…
The new State tree will be…any that are left standing at the end of hurricane season.
footnote: We crossed back into Florida the end of the first week in October, right after DOT opened up one span of I-10 over Escambia Bay in Pensacola. Shot some tape of the sight as we drove east in one lane of what used to be the westbound span. You can also find the link on the archives page, hurricane section.
cocoahigh65.com literature is a new addition to the site, made possible by Bobby Fuhrel's generous sharing of his first-person narrative, Just One Slice of Life. I'm looking forward to more of Bobby's work in the months ahead; as they say in the Times book review, give it a read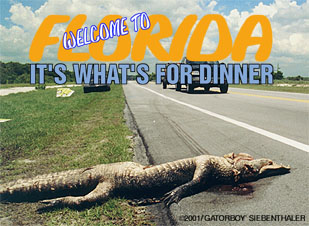 Normally I can cruise right by the hapless opossum, the luckless armadillo, the too brazen raccoon, but it's pretty darn hard to miss a "What's This? An Eight Foot Gator!" laying half out in the highway.