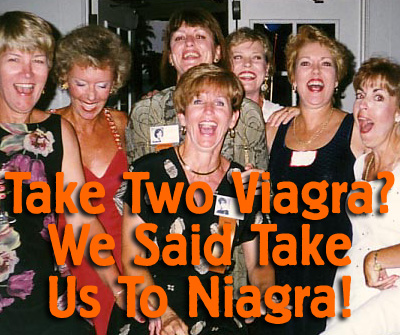 Inspired by the line in Captain Ron, when neophyte sailor Martin Short dresses down Kurt Russel's title character; "It's GUER-rilla, not GO-rilla," after his capture by island revolutionaries in defiance of Kurt's admonition to, "Hey boss, watch out for the guerillas," and his retort that, "There are no gorillas in the Caribbean, Cap'n Ron."
Yeah, this is the same crew who said your tongue wouldn't stick to the flagpole in the dead of winter. They're party 'til the sun comes up capable, and in '95 they brought the house down doing just that. We're talking about the '95 shindig, which is up for renewal a few months down the road, as prologue to June's reunion, and these are just a few of the great Klass of '65 (mostly - there's one ringer in the group) Kids who made that event so memorable.
Over the next few issues we'll look back at the past while we anticipate the future as our 40th — damn! who knew! — tribal gathering draws nigh. Word's afoot there'll be a return to active, not passive, entertainment, which for the party pros out there is only as it should be. We've got plenty of time to hang out in rockers once they ship us to the home.
site update
Bob Mayo's moved his CHS site to a new server. Bookmark www.theclassof1965.com to get there.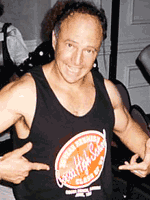 Jonny in 1995: sweatin' to the oldies, rockin' the night away. Tempus fugit.
Heere's Jonny…
It's not too difficult a stretch to imagine Carson and Waxman cracking each other up. Thanks to Rick Shotwell for drawing my attention to Jonny Waxman's softball tinged legacy. We remember how great it was in '95 that he made the trip out, and what a blast us'all had hanging with him.
From the website: "The Mo-Morial Halimaille Softball tournament is an annual fundraiser for Maui folks who may need a little "MO"….In the past 3 years, the event has helped to raise upwards of $2,500 to benefit the Jonathon Waxman Foundation and Maui Youth in need of baseball gear in honor of our friend Andy " Mo" Mcglaughlin."
What a great cause, and in the name of a true citizen of the planet.
Thanks also to Rick for updating my "Guess The Face" contest a few issues back. Check the page to see what Perry Garst looked like back when. (Funny that when we could grow hair, we chose not to.) Now if Shot'd just come through with some reminiscing we can publish without getting sued.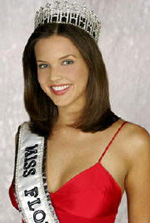 And Speaking of Donna…
Donna (Wike) Witek let us know about her daughter, Melissa. She's Brevard's 23-year-old Miss Florida USA titleist, a University of Florida graduate (how 'bout those Gators), and all around great kid.
Currently on a whirlwind round of appearances and events, the Journalism major, in addition to a 24-7 lifestlye, maintains a web site where a seriously proud mom can keep an eye on her activities.
We think it'd be great if the newest Miss Florida could make an appearance at the reunion. In the meantime, you can check out Melissa's progress for yourself, at www.missfloridausa.com or www.melissawitek.com.
More Food For Thought

Now's a good time to throw in another plug for my favorite cooking web site, à la carte. They've just updated with 50 fabulous new recipes for fish, and for me there's as much pleasure in viewing the site as in reading the preparations.
If you needed an excuse to try something new in the kitchen, this site'll get you started without any of the annoyingly pretensiousness of the latest crop of Food Network bobblehead foodfights.
Site owner Peter Herzmann's love of and for food is readily on display. So if the thought of cooking and/or eating another boring and bland concoction out of a can makes Wendy's seem like a reasonable alternative to the eating question, there is a solution, and it's right up the internet highway. You can do it!